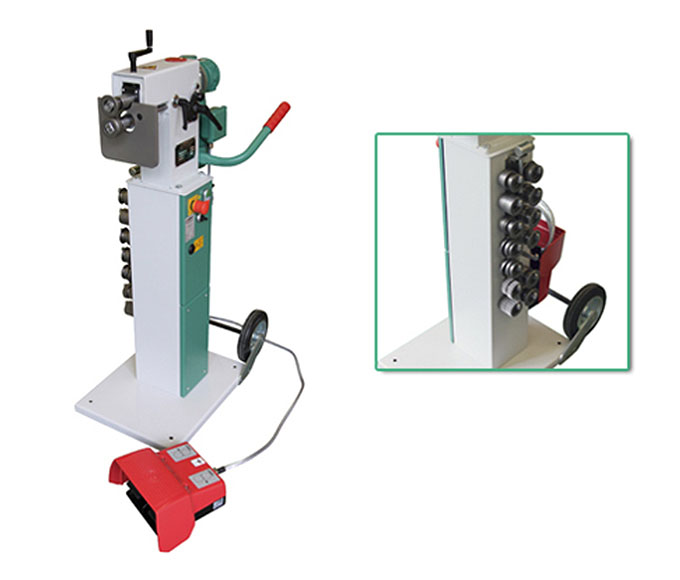 Hundt Beading, Flanging and Wire Inserting Machine SLF (motorized)
Lightweight electric beading machine in sturdy welded steel construction; working shafts with roller bearings, axial adjustment of the lower shaft. Stop plate with Hundt one-hand clamping. Very transport-friendly due to weight savings!
Drive via frequency converter with infinitely variable operating speed in the specified range.
Normal accessories
6 pairs of standard rollers (V1-V3, B, Z, K), roller wrench; large, hardened stop plate; connection cable with plug connection, roller holder for 14 pairs of rollers
Special accessories
Rollers in many versions, tail round stop, pipe support (height and diameter adjustable), chassis
Technical data
SLF

Technical data:

Roller center distance

SLF:

50 mm

Technical data:

Max. Sheet thickness (steel 400 N/mm²)

SLF:

1,25 mm

Technical data:

Greatest working depth

SLF:

180 mm

Technical data:

Drive power

SLF:

0,37 kW

Technical data:

Working speed

SLF:

4-15 m/min

Technical data:

Mains supply voltage

SLF:

230 V (1L/N/PE)

Technical data:

Weight approx.

SLF:

50 kg

Technical data:

Packing dimensions approx.

SLF:

50 x 75 x 130 cm
Design subject to change without notice.