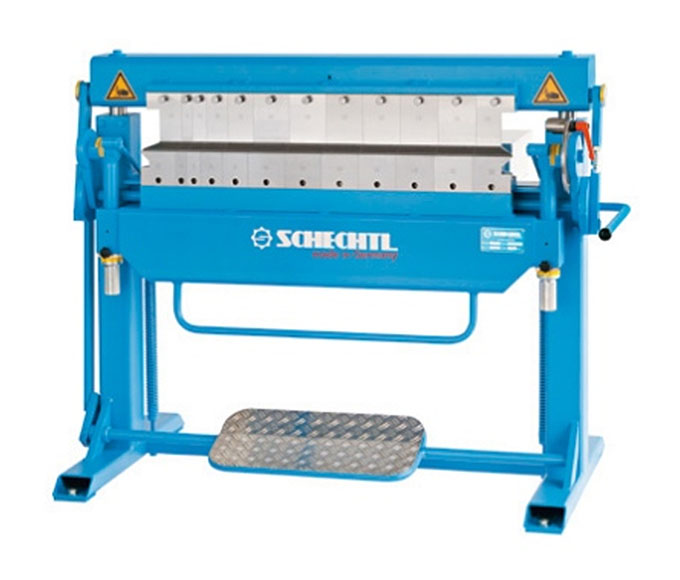 Schechtl segment swivel bending machine UKV (manual)
The strongest specialist for small batches and one-offs.
The UKV model is equipped with segmented bending tools on the three beam elements: upper, lower and bending beam. This makes it possible to bend sheets on all sides and, for example, to create complex box shapes or workpieces with bending legs pointing up and down. In the blink of an eye, the segments can be combined, changed and adjusted without tools using the utility model-protected quick clamping system.
Bending segments that are not currently required can be conveniently stored in a tray above the upper beam. The storage box for all segments sits under the depth stop to save space or, in the standard version, also serves as a workpiece support.
Whether in roof or facade construction, in bodywork and equipment construction or in the classic tinsmith trade: Here the UK series is successfully in use. Foot lever for hand freedom, mobility due to swivel castors, angle stop for consistent bending angles for series work.
Standard pitch of the segments for all models:
1 x corner piece right 100 mm
1 x corner piece left 100 mm
1 x 30/40/50/60/70 mm each
Normal accessories
Segments with quick clamping system, angle stop, upper beam pressure adjustment, bending beam lowering, storage box, foot pedal/foot switch
Special accessories
Roller shear, wheels with carriage, depth stop, raised segment inserts, window sill insert, upper cheek segment inserts, universal stop table UA 125