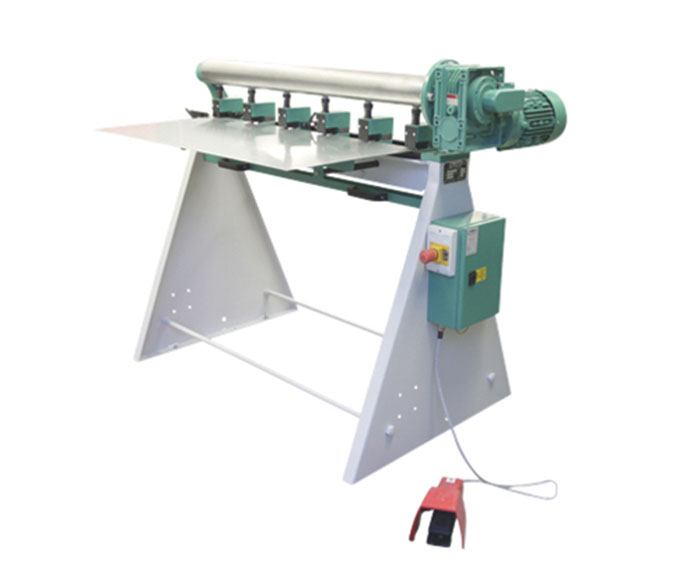 Hundt Row Punch RSE 6 (motorized)
Row punching machine in electric version, for punching blanks for pipe insulation. The punching process is performed by a geared motor that directly drives the eccentric shaft. Optimized electrical control always ensures the correct direction of rotation. This eliminates the need to swap phases when changing electrical plugs and sockets. The punching process is triggered by pressing the foot switch.
The punching units are fixed by two clamping rails and can thus be exchanged, added and adjusted to the required hole spacing with little effort. The hole spacing to the edges can be adjusted by means of stops. An extendable table extension provides a good sheet support.
Normal accessories
6 punching units with hole cuts Ø 3.3 mm (Ø 2.0 - 6.0 mm possible on request), connection cable with CEE plug connection, collection tray for punching waste
Special accessories
additional punching units, hole cuts from Ø 2.0 - 6.0 mm, double stop systems for punching in push-through mode, fixed stops
Technical data
RSE 6/1000
RSE 6/1250

Technical data:

Working width

RSE 6/1000:

1020 mm

RSE 6/1250:

1270 mm

Technical data:

Max. Sheet thickness (steel 400 N/mm²)

RSE 6/1000:

1,25 mm

RSE 6/1250:

1,25 mm

Technical data:

Smallest hole spacing (between punching units)

RSE 6/1000:

60 mm

RSE 6/1250:

60 mm

Technical data:

Supply voltage

RSE 6/1000:

400 V (3LPNE)/50Hz

RSE 6/1250:

400 V (3LPNE)/50Hz

Technical data:

Drive power

RSE 6/1000:

1,1 kW

RSE 6/1250:

1,1 kW

Technical data:

Weight approx.

RSE 6/1000:

150 kg

RSE 6/1250:

160 kg

Technical data:

Packing dimensions approx.

RSE 6/1000:

130 x 80 x 110 cm

RSE 6/1250:

155 x 80 x 110 cm
Design subject to change without notice