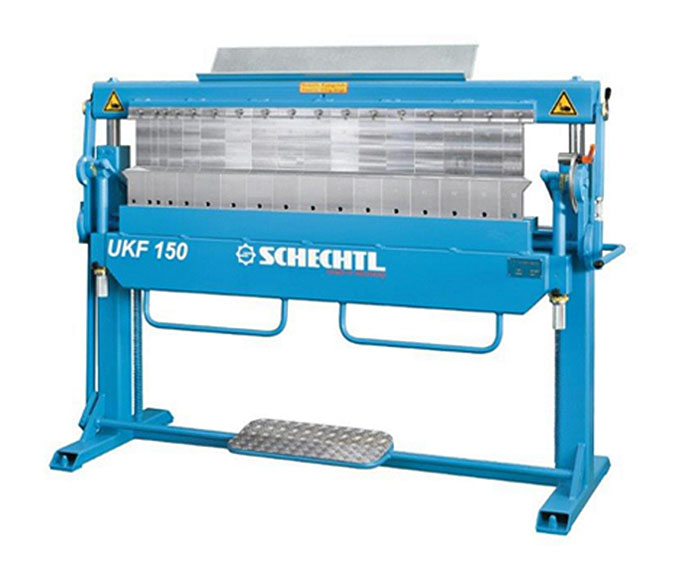 Schechtl segment swivel bending machine UKF (manual)
Double clearance due to extra high inserts.
The "F" stands for "Flexible". The UKF offers larger dimensions and many advantages: The UKF offers space for 160 mm + 180 mm high segment inserts on the top beam. The segment inserts of the lower and bending beam are 120 mm high - that's 100% more freedom. The working height has been raised by 170 mm compared to the UKV, so large-format sheets can be processed much more ergonomically.
You save costs and gain manufacturing convenience:
This XXL freedom allows the master tinsmith to produce larger closed molds. It also brings significantly more flexibility and throughput to the workflow. And: Higher segment inserts are often special tools on other machines. What has to be made extra there is standard at UKF.
The Universal Stop Table UA 125 extends the spectrum especially for recurring bending sequences. The stop table is equipped with wheels and can be used on several UK models.
Standard pitch of the segments for all models:
1 x corner piece right 100 mm
1 x corner piece left 100 mm
1 x 30/40/50/60/70 mm each
Normal accessories
Segments with quick clamping system, angle stop, upper beam pressure adjustment, bending beam lowering, storage box, foot pedal/foot switch
Special accessories
Universal stop table UA 125, wheels with chassis, raised segment inserts, upper cheek segment inserts