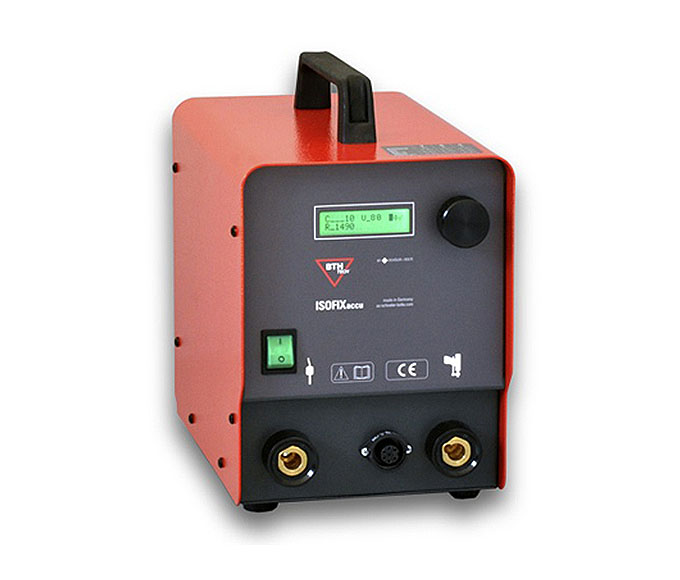 Schöler+Bolte stud welder ISOFIXaccu set
The ISOFIXaccu battery-powered stud welder is specially designed for welding plate pins and insulating nails. The battery operation enables mobile work use without power supply. The integrated battery provides a capacity for 1500 welds. With a service life of approx. 1000 charging cycles, it is extremely durable. As an alternative to battery operation (e.g. when the battery is empty), the ISOFIXaccu can be operated from the mains.
Weighing only 9 kg, the ISOFIXaccu is particularly light and very compact. It convinces with its easy handling and high welding quality. The electronically clocked inverter charging board enables extremely short charging times and thus fast welding sequences. The robust design ensures high reliability and a high duty cycle. All functions are clearly displayed in the high-quality LCD display. The charging voltage is continuously adjustable via the rotary control on the front.
Normal accessories
1 battery pack, charger, stud welding gun PIM-1B, earth cable 25 mm², 5 m, gripping pliers, magnetic stud holder TSM311 for disc pins (for disc diameter 30 mm)
Technical data
Schöler+Bolte ISOFIXaccu SetLBS 44 stud welder

Technical data:

Welding area

Schöler+Bolte ISOFIXaccu SetLBS 44 stud welder:

Ø 2-3 mm

Technical data:

Welding material

Schöler+Bolte ISOFIXaccu SetLBS 44 stud welder:

Steel, stainless steel, aluminum

Technical data:

Welding sequence

Schöler+Bolte ISOFIXaccu SetLBS 44 stud welder:

> 20 welds/min

Technical data:

Battery capacity

Schöler+Bolte ISOFIXaccu SetLBS 44 stud welder:

1500 welds (at 80 V charging voltage)

Technical data:

Battery life

Schöler+Bolte ISOFIXaccu SetLBS 44 stud welder:

approx. 1000 charging cycles

Technical data:

Charging time battery

Schöler+Bolte ISOFIXaccu SetLBS 44 stud welder:

3 hours

Technical data:

Welding counter

Schöler+Bolte ISOFIXaccu SetLBS 44 stud welder:

resettable

Technical data:

Fault diagnosis system

Schöler+Bolte ISOFIXaccu SetLBS 44 stud welder:

Overtemperature, defect on welding/control cable

Technical data:

Dimensions (W x L x H)

Schöler+Bolte ISOFIXaccu SetLBS 44 stud welder:

195 x 302 x 270 cm

Technical data:

Weight

Schöler+Bolte ISOFIXaccu SetLBS 44 stud welder:

9 kg