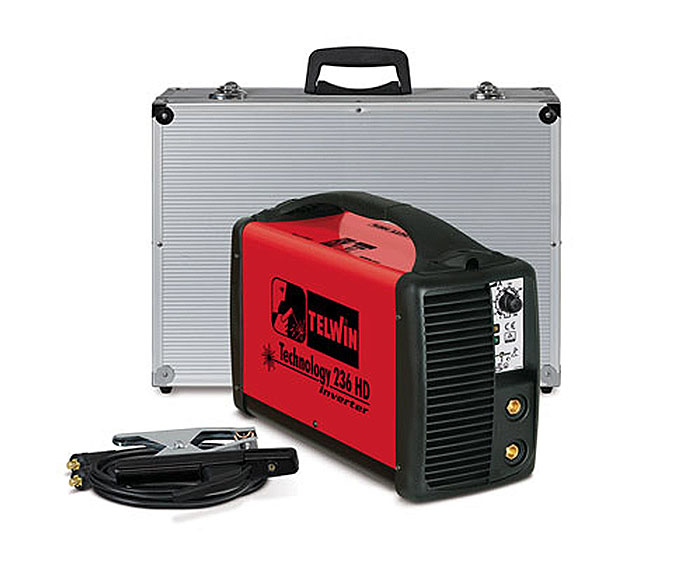 Telwin Inverter welder 236 XT 230 V
MMA and TIG inverter welder for electrode welding with direct current (DC) and strip ignition.
Electrode types: rutile, basic, stainless steel, cast iron electrodes, etc.
Features: compact and lightweight, high welding current stability when the supply voltage changes, arc-force, hot-start, anti-stick.
Devices, protections: Thermostat, overvoltage, undervoltage, overload, power unit (+/- 15%).
Normal accessories
Aluminum case, electrode holder 300 A, ground clamp 300 A, cable 25 MMQ 2 m Dinse 25, cable 25 MMQ 3 m Dinse DX 25
Technical data
236 XT

Technical data:

Mains voltage, single phase

236 XT:

230 V

Technical data:

Mains frequency

236 XT:

50-60 Hz

Technical data:

Control range

236 XT:

5-200 A

Technical data:

Current, max.

236 XT:

200 A-35 %

Technical data:

Current, AM 60 %

236 XT:

140 A

Technical data:

Power consumption, max.

236 XT:

42 A

Technical data:

Current consumption, AM 60

236 XT:

24 A

Technical data:

Open circuit voltage, max.

236 XT:

81 V

Technical data:

Power

236 XT:

84 %

Technical data:

Power consumption, max.

236 XT:

6.6 kW

Technical data:

Power consumption, AM 60 %

236 XT:

4.2 kW

Technical data:

Power factor

236 XT:

0.8 cosphi

Technical data:

Generator set power, min.

236 XT:

10 kW

Technical data:

Usable electrodes (DC)

236 XT:

1,6-4 mm

Technical data:

Degree of protection

236 XT:

IP23

Technical data:

Dimensions

236 XT:

35.5 x 46.5 x 18.5 cm

Technical data:

Weight

236 XT:

9,8 kg