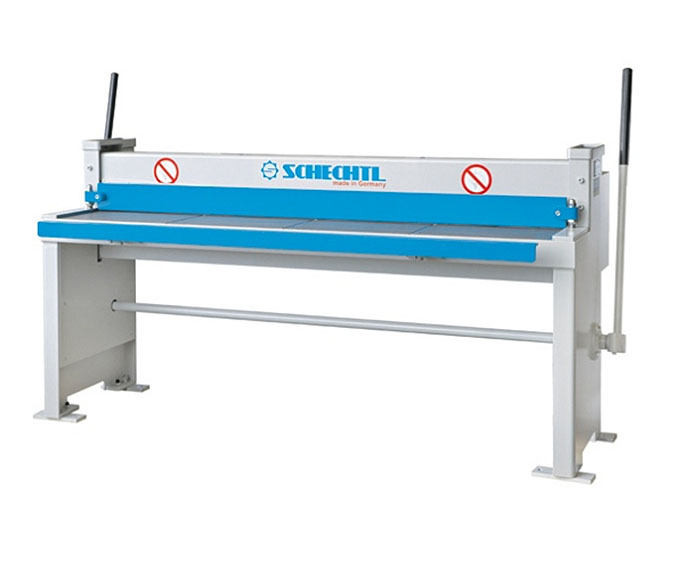 Schechtl guillotine shear HT (manual)
The HT offers the most comprehensive range of accessories in manual guillotine shears.
Whether workshop, long-term construction site, repair - tinsmiths, roofers and carpenters will find the right model for every requirement in the manual guillotine shears of the HT series.
Simple operation - custom work with high comfort.
Efficient and cost-saving 1-man operation, smooth-running eccentric drive of the cutter bar, power-saving triggering of the cutting movement via one of the operating levers on both sides, extendable support bar up to 920 mm facilitates guiding large-format metal sheets on the table, ergonomic working height protects the back, Angle stops with inserted stainless steel scale ensure an exactly right-angled cut, angle stop for miter cuts with scale and lock, no slipping and shifting - the automatic hold-down device and the hard rubber support keep the metal sheets firmly in position during cutting.
The machine frame is a proven steel construction with a knife bar made of sectional steel, all bearings and guides are maintenance-free.
Normal accessories
Table tops (interchangeable) with 10 mm graduation and measuring tape, manual depth stop 0-500 mm with rack + crank (operated from behind), 1 pair of shear blades steel (single-edged)
Special accessories
Shear blade chrome steel, manual depth stop (with/without tilting table), angle stop with graduation, freely adjustable support arms and angle stop with T-slot, pneumatic hold-down device, LED kerf lighting, sheet stacking carriage light (max. 300 kg), sheet chute.