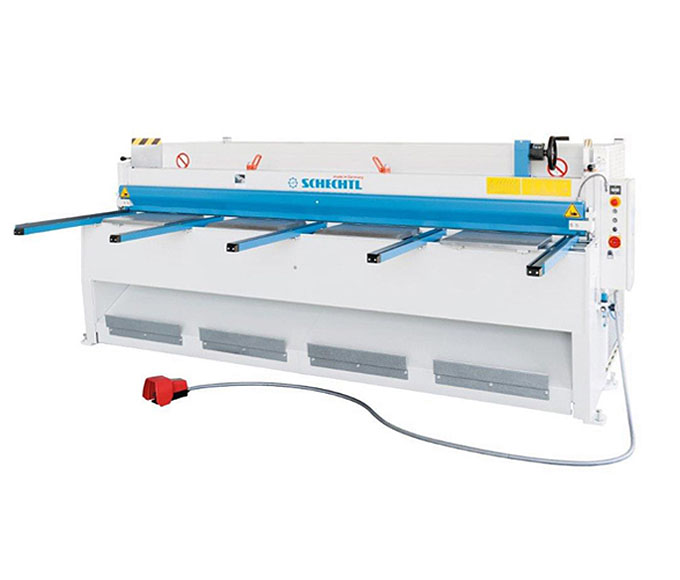 Schechtl guillotine shear MSC (motorized)
Make the best cut with this powerhouse.
The MSC represents the top performance among motorized guillotine shears and is your top choice for particularly high-quality tasks in thin sheet processing. The MSC is powered by two engines. This principle optimally balances the cutting forces over the entire working length. This means a much smoother guidance of the knife bar, which in turn increases the cutting precision enormously.
The MSC BV - convenient operation from the front.
Pneumatically operated tilting table deposits the cut material to the front. Digital position display adjustable from the front (optionally available). Manual depth stop can be operated from the front. 1 man operation despite the enormous cutting thickness. Optimal adjustment by means of kerf setting to different thickness materials.
Enhance the MSC BV with accessories that save time, such as the kerf light for precise visibility of the cutting position or extended support arms. As an alternative to the MSC BV, the BVH and NC/NCH control variants are available.
Normal accessories
1 pair of shear blades steel (double-edged), analog position indicator BV/H for the manual depth stop, manual depth stop 0-750 mm (operated from the front) with pneumatically operated tilting table to the front. COMPRESSED AIR MUST BE AVAILABLE! (connection capacity 6 bar, min. 50 l/min), 2 freely adjustable support arms 1000 mm with T-slot and measuring tape, angle stop left and right 1000 mm with T-slot and measuring tape, 1 sheet support made of stainless steel, freely adjustable and exchangeable, left and right sheet support with 10 mm graduation, simple cutting gap adjustment via scales, sheet chute, 1 foot switch, safety barrier, within the EU connection plug 32 A with 5 m cable
Special accessories
Shear blade chrome steel (standard on MSC 400 and 450), contact stroke counter, manual depth stop, angle stop with graduation, freely adjustable support arms and angle stop with T-slot, pneumatic hold-down device (except MSC 450), LED kerf lighting, light barrier, digital position display