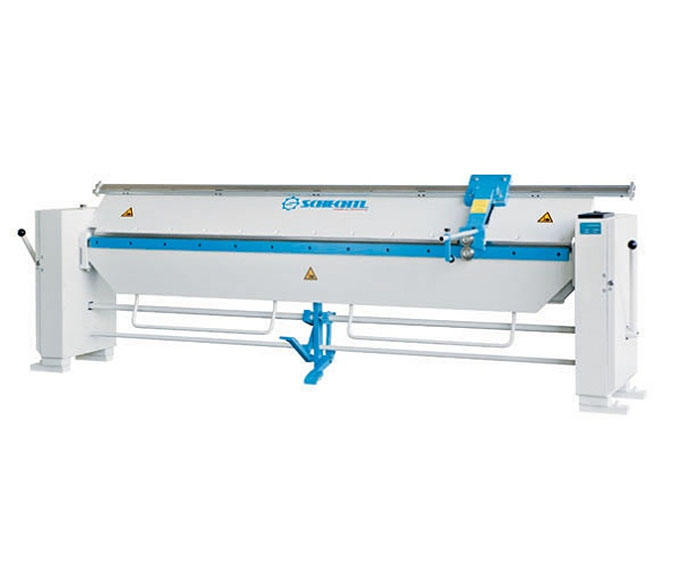 Schechtl swivel bending machine HA (manual)
The HA model is a manual swing bending machine for bending steel sheets up to max. 1.5 mm (referred to 3100 mm working length). The combination of solid machine elements in welded construction and a sophisticated spring system as weight compensation for the upper and bending beam makes the HA model a "powerhouse" without the operator having to go to his power reserves.
The work plate is passed between the upper and lower beam and the upper beam is closed either with a foot lever or with two operating levers mounted on the left and right of the machine perpendicular to the work plate. This prevents the sheet from sliding forward during clamping and maintains dimensional accuracy. The clamping pressure of the upper beam can be adjusted on both sides. The maximum opening width of the top beam is approx. 100 mm. All bearings and guides are maintenance-free.
All bending rails are interchangeable. The prerequisite for this is that the bending beam can be lowered and adjusted to different sheet thicknesses and radii. On the bending beam there is a scale from 0-180° for reading the bending angle. An adjustable bend angle limit is available for recurring stirrups.
The HA 400 model is a low-cost alternative to motor-driven swing bending machines in this performance range.
Normal accessories
Sharpness rail 20°, radius = 1.0 mm (cranked) for the upper beam (66/24 mm), 1 insert rail each 68/10 mm and 68/24 mm for the bending beam, support grid
Special accessories
Roller shear, depth stop, bead device, possibility of segment tools, sharpening and rounding rails (various sizes), angle rail 85°, insertion rail 14 mm, split goad foot rails 55 and 95 mm with receiving rail, foot pedal