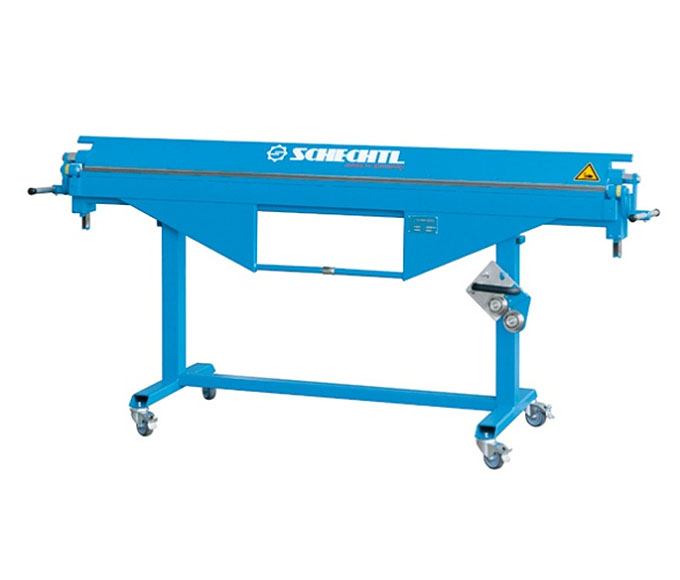 Schechtl swivel bending machine LBX (manual)
The LBX manual swing bending machine is designed for bending steel sheets up to max. 0.63 mm sheet thickness suitable. It has a particularly light and compact design and was conceived as a powerful tool for the sheet metal professional on site at the construction site. Both swivel casters and the complete base frames are removable so that the machine can also be easily mounted on a construction site vehicle or workbench. In combination with an optional roller shear, everything the sheet metal professional needs to work is available on the construction site.
On all LBX models, the work plate is passed through and clamped between the upper and lower cheeks. For this purpose, there are operating levers on the left and right of the machine, which also serve as carrying handles. The top beam closes perpendicular to the work plate. This prevents the sheet from sliding forward during clamping and maintains dimensional accuracy. The clamping pressure of the upper beam can be adjusted on both sides.
All bending rails are interchangeable. The prerequisite for this is that the bending beam can be lowered and adjusted to different sheet thicknesses and radii. A special adjustment screw on the operating handle makes it easy to adjust the bending beam to any material type and thickness for a uniform bending result across the entire working width.
Normal accessories
Sharpness rail 20°, radius 1.0 mm (exchangeable), alternatively the machine can be ordered with a built-in round rail radius = 2 mm (no extra charge), insert rail 14 mm (not exchangeable), base frame, swivel castors (only standard for models LBX 200 + LBX 250)
Special accessories
Roller shear, depth stop, cover sheet, beading device