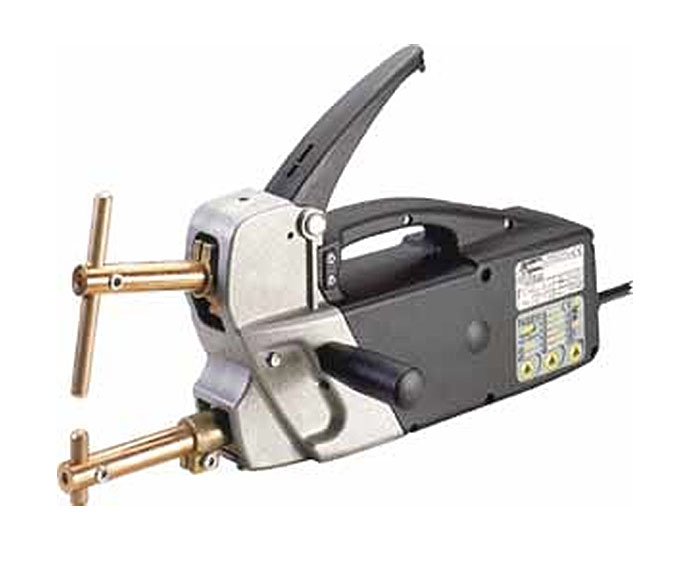 Telwin spot welding gun Digital Modular 230
Portable single phase microprocessor controlled spot welder
The unit features the new "Fuzzy Logic" control system, which simplifies operation and improves spot weld quality.
The device is suitable for spot welding of sheets up to 2-2 mm thick. The setting of the duration and spot welding current is done automatically depending on the thickness of the material.
Choice between continuous and pulsed current welding mode (suitable for plates with high stretch coefficient-high stress), force of arms 40 to 120 kg (with arms L = 120 mm).
Execution:
Ready to weld, ready to use with cable and connector plug in industrial design
Technical data
Digital Modular 230

Technical data:

Mains frequency

Digital Modular 230:

50-60 Hz

Technical data:

Mains voltage/single phase

Digital Modular 230:

230 V

Technical data:

Max. Power consumption

Digital Modular 230:

13 kW

Technical data:

Rated power

Digital Modular 230:

2.3 kW/50 %

Technical data:

Mains fuse

Digital Modular 230:

25 A

Technical data:

Power factor

Digital Modular 230:

0.9 cosphi

Technical data:

Open circuit voltage secondary

Digital Modular 230:

2,5 V

Technical data:

Max. Spot welding current

Digital Modular 230:

6300 A

Technical data:

Max. Welding thickness 2 sheets

Digital Modular 230:

2 + 2 mm

Technical data:

Duty cycle

Digital Modular 230:

1,5 %

Technical data:

Insulation class

Digital Modular 230:

B

Technical data:

Degree of protection

Digital Modular 230:

IP20

Technical data:

Dimensions

Digital Modular 230:

44 x 10 x 18,5 cm

Technical data:

Weight

Digital Modular 230:

10,3 kg